Qualitest Canada utilizes Ultrasonic Pulse Echo (UPE) technology to determine the integrity of all types of Concrete structures including Silo, MSC wall, Dams, Floors, tanks etc through its highly qualified Engineers and Inspectors. Qualitest Inspectors perform this Ultrasonic Pulse Echo Scanning services throughout Canada including Toronto, Mississauga, Hamilton, Sarnia, Milton, St. Catharines, Ottawa, Brampton, London, Markham, Vaughan, Kitchener, Windsor, Vancouver, Surrey, Langley, Richmond, Delta, Burnaby, Victoria, Kitimat, Dawson Creek, Kelowna, Kamloops, Edmonton, Calgary, Red Deer, Peace River, Grande Prairie, Fort McMurray, Regina and Saskatoon.
The damage and collapse caused by structural defects can be severe. Qualitest can help you test Concrete, rocks, composites, ceramics, wood, and refractory materials using State of the Art Ultrasonic Pulse Echo (UPE) technology to determine their strength and uniformity. Our clients include federal and provincial government, contractors, developers, consultants, and owners.
Ultrasonic Pulse Echo (UPE) technology can help identify some of key structural features of the concrete silos. For example, many the design documents are often lost or poorly maintained for some of the older concrete silos. Rebar spacing, and rebar size information can help structural engineers in evaluating the load bearing capacity of the silo structure. Structural flaws cause severe damage and collapse.
Ultrasonic Pulse Echo (UPE) is an advanced imaging technique used to detect defects in concrete structures. Ultrasonic testing provides information on the strength and quality of concrete Silos, and it can be used to determine voids, honeycombs, delaminations, pipes, cracks, and defects within the Silo structure. The ultrasonic pulse-echo (UPE) technology extends ultrasonic pulse velocity (UPV) applications to objects where access is limited to a single side. Qualitest uses the PD8050 for UPE testing, the World's Lightest Wireless Ultrasonic Imaging System with Augmented Reality and Artificial Intelligence Capabilities.
Ultrasonic Pulse Echo can be used to find-out the..
Location of subsurface defects of concrete such as flaws, cracks, honeycombing, and poor patches.
Measurement of thickness of concrete elements
Determination of concrete pulse velocity for homogeneity and strength estimation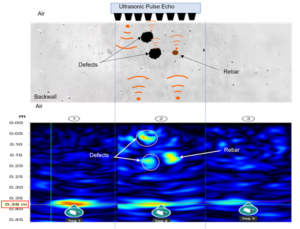 Figure 1: UPE scan performed on a concrete wall (cross section shown) containing a rebar and two defects. UPE scans gave a clear indication of thickness at 0.38 m.
Applications of Ultrasonic Pulse Echo include: 
Thickness measurement
Strength evaluation
Cracks and defect assessment – including Voids, honeycombs, and delamination
Rebar, pipes &conduit localization
Advantages of UPE:
Portable instrument allows for in-situ assessment 
Single side access is enough 
No couplant necessary
No saturation with water needed
Instant reading and quicker analysis
Contact us admin@qualitests.com today to get a quote.
AB: 320A – 65 Ave SE, Calgary, AB T2H 0R8, Canada, (587) 747-3787